Program Evaluation
Use these program evaluation resources to learn what the unique Carolina Certified Version of OpenSciEd for Middle School has to offer teachers and students.
All modifications and enhancements to materials and/or lessons undergo an extensive review and approval process by the OpenSciEd Curriculum Team to ensure integrity to the instructional principles and design specifications.

Program Overview
Carolina Certified Versions offer:
• Redesigned instructional materials that are easier to follow with a consistent design and lesson flow
• Simplified investigations to reduce teacher prep and classroom instructional time
• Digital resources to support teachers and engage students are available in one place via Carolina Science Online
Learn more about the unique features and benefits of the Carolina Certified Version of OpenSciEd for Middle School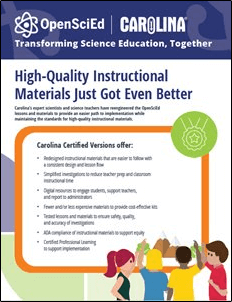 Unit Overviews and Modifications
To evaluate Carolina Certified Versions find:
Unit Storylines–A lesson-by-lesson summary of the unit with the lesson question, phenomena or design problem, what we do and figure out and how we navigate to the following lesson
Unit Modifications–Unit-specific modifications unique to the Carolina Certified Version (CCV), including instructional changes, and updates to equipment and materials
Unit Materials Lists–A side-by-side comparison of OpenSciEd Materials List vs. materials found in the Carolina Certified Version
Teacher Edition Sample–Unit Overview and a complete lesson Student Edition Sample–examples of student handouts by lesson
(See matrix below)

Preview on CarolinaScienceOnline.com
Ready to preview the Carolina Certified Version on CarolinaScienceOnline.com?
For preview access to CarolinaScienceOnline.com,
contact your sales representative.

Unit Overviews and Modifications